Pharmacovigilance - drug safety
Pharmacovigilance - drug safety
Medicines may affect the body in unintended, harmful ways. These effects, called side effects, adverse events or adverse reactions, represent risks of medicines.
It is important to identify, as quickly as possible, new risks or changes to the known risks associated with the use of medicines. Actions must be taken to minimise the risks, maximise the benefits and promote safe and effective use of medicines by patients.
These activities are known as pharmacovigilance:
The science and activities relating to the detection, assessment, understanding and prevention of adverse effects or any other medicine-related problem.
An activity contributing to the protection of patients' and public health.
Patient safety and pharmacovigilance
The ABPI Pharmacovigilance Expert Network (PEN) created this document to provide information regarding the safety of medicines and pharmacovigilance.
Read our guide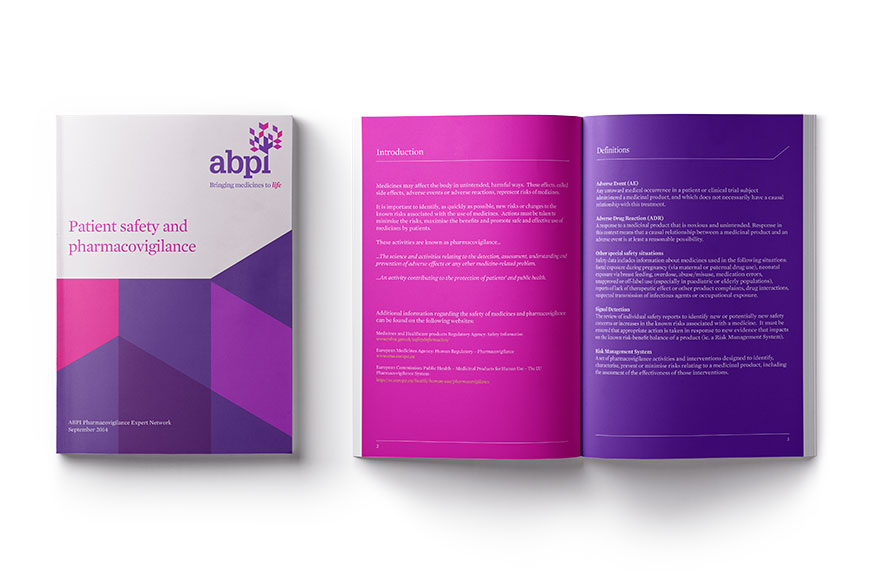 Discovering new medicines
Historically, new medicines have been made from compounds found in plants, fungi and marine organisms. The molecule responsible for the medicinal properties is then extracted, identified and synthesised. Often many similar molecules are made chemically, these are called analogues. These analogues attempt to improve on the original compound to maximise desired effects and minimise unwanted effects. Now, new medicines can be made using computer aided design based on knowledge from genomics (the study of genes) and proteomics (the study of proteins).
Developing a new medicine often requires research into the mechanisms of disease. This is aided by collaboration between industry and universities or other research institutes.
Preclinical safety
Drugs carry a number of risks and understanding the science behind adverse drug reactions can help increase the safety of new medicines. ABPI member companies work together to share knowledge and experiences in a 'pre-competitive space' in order to help maximise drug safety from the earliest point of developing a new medicine.
A vital part of medicines development, particularly preclinical safety research, involves the use of animals. Indeed, UK and European regulations currently require that all new medicines are tested on animals before being used in humans, to ensure patient safety.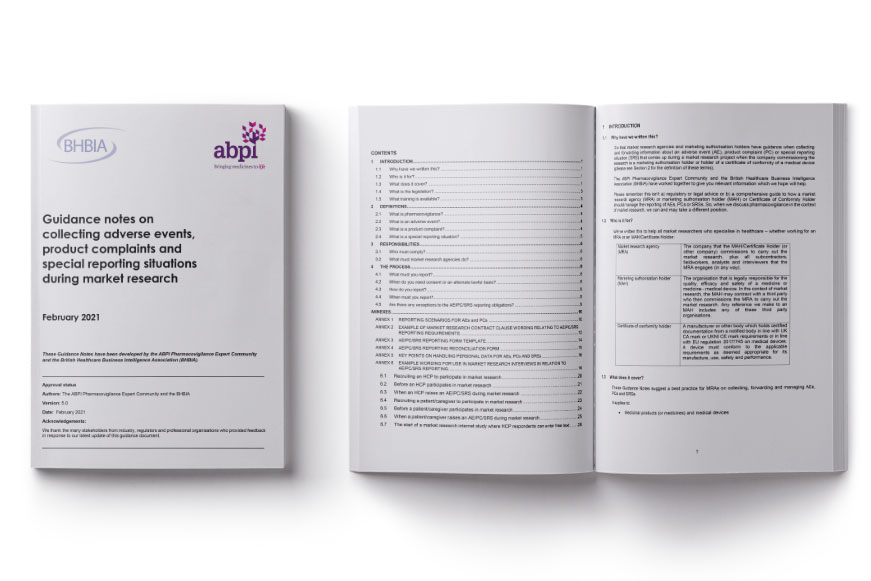 Guidance notes on collecting adverse events, product complaints and special reporting situations during market research
Guidance for market research agencies and marketing authorisation holders when collecting and forwarding information about an adverse event (AE), product complaint (PC) or special reporting situation (SRS) that comes up during a market research project when the company commissioning the research is a marketing authorisation holder or holder of a certificate of conformity of a medical device.
Read our guidance
Guidance notes for patient safety and pharmacovigilance in patient support programmes
Many pharmaceutical companies run Patient Support Programmes (PSPs) to help patients and/or healthcare professionals better manage disease and optimise treatment.
When conducting PSPs safety data may be generated relating to the use of a medicinal product. 
Read our guidance notes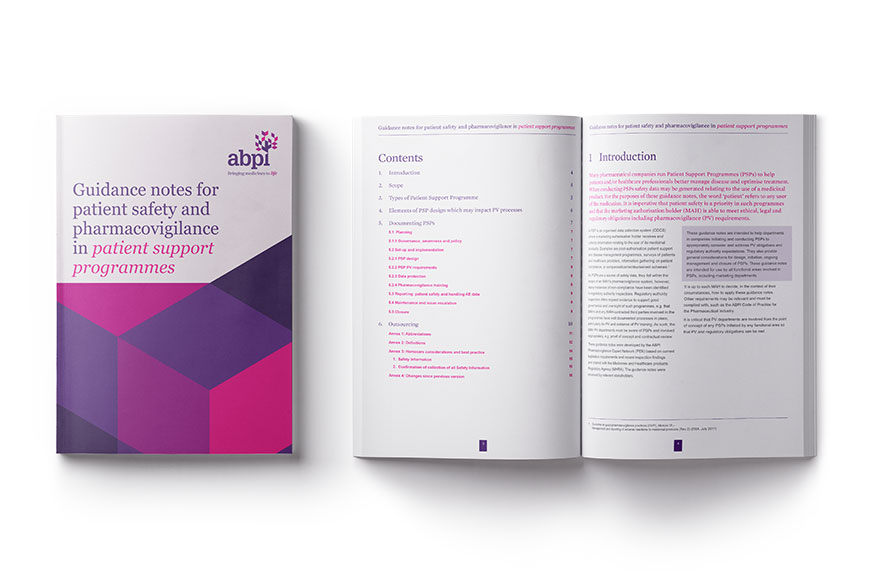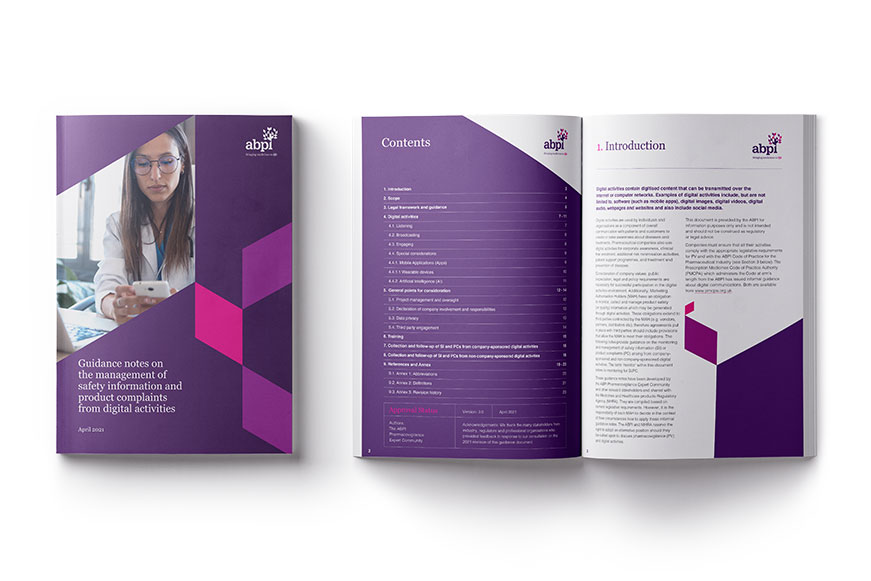 Guidance notes on the management of safety information and product complaints from digital activities
Digital activities are used by individuals and organisations as a component of overall communication with patients and customers to create or raise awareness about diseases and treatments.
Pharmaceutical companies also use digital activities for corporate awareness, clinical trial enrolment, additional risk minimisation activities, patient support programmes, and treatment and prevention of diseases.
Read the guidance notes
Guidance notes on UK data
protection in post-marketing
pharmacovigilance
This guidance has been developed by the ABPI Pharmacovigilance Expert Network (PEN), together with the Pharmaceutical Information and Pharmacovigilance Association (PIPA) and pvlegal to help companies performing post marketing pharmacovigilance in the UK to meet their data protection obligations under the UK Data Protection
Act 1998 (DPA).
Read more about UK data protection in post-marketing pharmacovigilance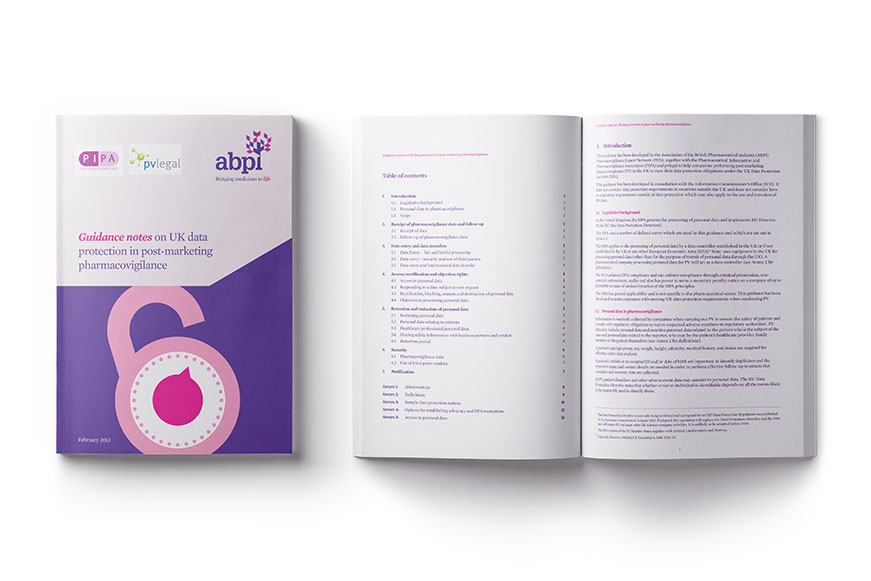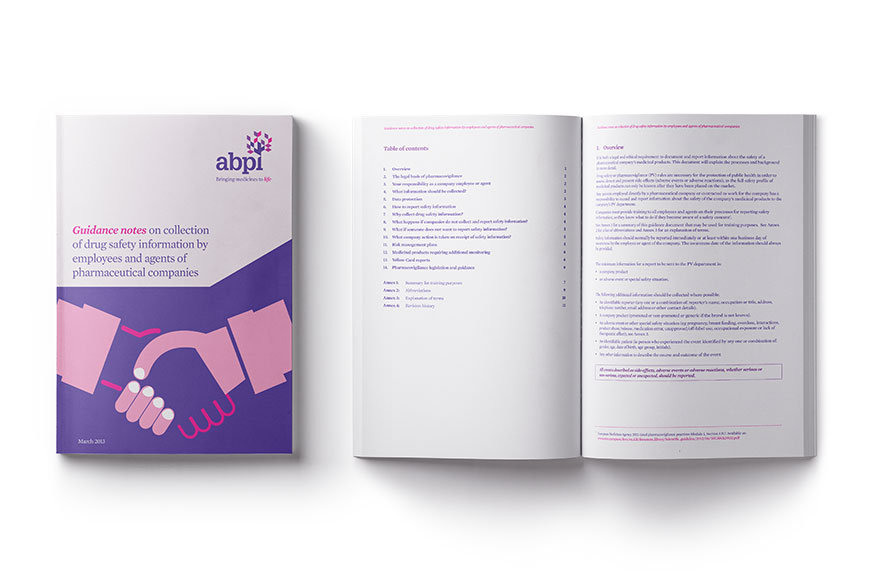 Translational medicine
The skill of transferring research effectively from preclinical models to early clinical research in man is known as translational medicine. It also works two ways, by applying what is learnt in clinical practice to refer to clinical models. We have worked closely with NIHR in the establishment of the first Translational Research Partnerships (TRPs). These unique partnerships, run by the NIHR Office for Clinical Research Infrastructure, facilitate collaborations between industry and academia to drive translational research. There are currently two TRPs in operation: one focussing on inflammatory respiratory disease, the other on joint and related inflammatory diseases. We and our member companies continue to work closely with the TRPs to ensure they are aligned with industry, helping to translate early research to safe and effective medicines as quickly as possible.
Early stage clinical trials
Before a new medicine can be given to humans in the UK, a clinical trial application (CTA) must be approved by an agency of the Department of Health known as the Medicines and Healthcare products Regulatory Agency (MHRA). The application is reviewed by independent medical and scientific experts, who recommend whether trials can begin in humans or whether more research is required first. If a CTA is granted, a new medicine will pass through a long and complex process of early and later stage clinical studies before the company can seek authorisation to make the medicine available for doctors to prescribe for widespread use. This is if the trial shows positive data. The ABPI has produced Phase I guidance.
The time, costs, and resources associated with clinical trials are very high. Clinical trial simulation is one innovative way that can improve the efficiency of clinical development. Simulation can be used across the drug development process, from informing study design, to modelling drug-drug interactions, and specific patient populations (e.g. paediatrics). We are working with our members and regulators to develop guidance on these innovative tools, such as physiologically based pharmacokinetic (PBPK) modelling.
Tool compounds and repurposing
The UK scored a world first in the AZ-MRC initiative that provided unprecedented access to proprietary pharmaceutical compounds for academia to use in preclinical or clinical research as tool compounds, for example to gain understanding of mechanisms of disease. In some cases, access to compounds that may have been terminated in the development process for a particular disease indication, may be explored for repurposing in another disease indication (where there is a scientific rationale) - this would save considerable time and effort in development, and open up potential avenues for new treatments.